Relevant Expertise and competitive advantage
Amarnda has expertise in all behavioural issues as stated above however there is also a sound knowledge in clinical problems. Animals that have been presented with disease and or biological malfunction have all been assessed by a top veterinarian and A and B dogs will implement any medical regime appropriate and in some circumstances (fig 1) have taken further measures to remedy the situation. In this case the dog ( Maisie) was re-homed to a normal loving home.
A German shepherd bitch (Tara) (Fig 2) aggressive behavioural problems regarding men and other animals coupled with a serious skin condition (sarcoptic mange). This young bitch was subjected to repeated beatings and ignorance.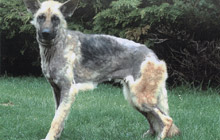 In all of these difficult cases whether dog or horse, be it behavioural or medical, the costs escalate and without owners to pay or at least subsidise. A and B dogs can no longer sustain the funds necessary but as in all things A and B dogs THE MORAL issue prevails.
A and B Dogs and the incorporation of an animal saviour charity.
DOGHELPUS.
MANMADE ANIMAL MISFITS REHABILITED AND GIVEN PURPOSE.